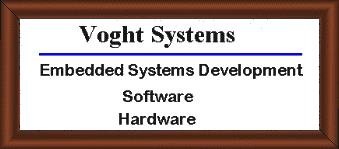 ---
Tim Voght of Voght Systems (Indianapolis, Indiana) is an independent consultant providing you with electronic engineering expertise. He can work alone or with your engineering team to develop the electronic systems you need:
Instrumentation
Industrial Controls
Test Fixtures
Consumer Products
Contract Software
Specializing in embedded systems design, Tim Voght has the experience and skills necessary to design the hardware and software for your microprocessor-based product. You may need electronic development resources for short term projects that do not justify hiring a full-time electrical engineer. Or you may have an engineering staff, but need extra support when specific projects are understaffed. Voght Systems can help out in these situations, developing entire projects to your specifications, or supplementing your engineering staff. The work can be done in Voght Systems facilities, or in yours. Perhaps your company is new to electronic development. Tim Voght will never talk down to you or give you the impression that what he does is 'black magic'. Design options will be explained to you in the clearest manner possible. Call to discuss your needs. There is no charge for the first consultation.
---
Experience / Achievements
Communications Line Analyzer - Voght Systems provided a client with the hardware and software design of an instrument for testing twisted-pair communications lines. The new microprocessor-based instrument is smaller, easier to use, and cheaper to build than the earlier design it replaces.
Cable Television test equipment - While employed at Wavetek Communications, Tim Voght led a software team in the design of a highly successful line of CATV test equipment. He designed and implemented innovative measurement algorithms. He developed quality software for other radio-frequency test equipment as well.
Automotive instrumentation and displays - Contracting for Delco Electronics, Tim Voght designed automotive instrument cluster hardware.
Facilities automation equipment - As an employee of American Auto-Matrix in Pittsburgh, PA, Tim Voght designed hardware for facilities automation equipment. He also designed test fixture hardware and software for manufacturing test of this equipment.
Publications - Tim wrote the article "Generating Sine Waves with Software" published in the September 1995 issue of Embedded Systems Programming magazine.
Patents - Tim is named as co-inventor on United States Patents #5,585,842 and #5,867,206 : "CATV Frequency Sweep Testing Using RF Transmitter to Generate Test Signals".
Programming languages used: 'C' and various assembly languages.
---
Embedded Systems - What are they?
Embedded Systems are internal computers or 'microprocessors' which are dedicated to controlling the operation of a device, instrument, or product. It may not be immediately obvious to the casual observer that the device has a computer controlling it - the computer is 'embedded' in the device.

The number of embedded microprocessors being used today is incredible. Surely every household has several. Your television set probably has an embedded processor, as does the television's remote-control. Your microwave oven almost certainly has an embedded processor, and maybe even your blender! If you have a recent-model automobile, it may have several. Manufacturers are finding more and more uses for embedded processors in their products. Embedded control is making products smaller, handier, more reliable, and less expensive.
Does your product need an embedded processor?
Maybe (and maybe not). Often, a product simply cannot be improved by adding electronic intelligence to it. Sometimes, a product may be improved by the addition of simple electronic circuitry that does not include an embedded processor (Voght Systems can develop these hardware-only designs as well). Talk to Tim Voght about your application and he will give you his honest opinion about whether it is suited to an electronic solution or not.
---
Tim Voght has over 17 years of experience in the communications, instrumentation, automotive, and automation segments of the electronic industry. The bulk of that experience has been with the development of embedded systems. As a digital hardware and software engineer, he has had experience with a variety of microprocessor types. He is also experienced in analog hardware design. Tim has a BSEET degree from Purdue University in West Lafayette, Indiana. He graduated in 1981.

You may also view a more comprehensive resume.
---
Tim Voght 321 N. Devon Ave.
Indianapolis, IN 46219
(317) 895-8092

---